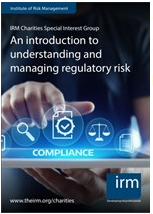 The IRM Charities Special Interest Group  has published a guide on understanding and managing regulatory risk.
The guide has been designed with risk practitioners or individuals with risk management responsibilities in mind, Trustees and senior managers may also find the information useful.
The guide can be found on the IRM Website in the publications section.