If your child has significant or complex delays to their development, they may need more specialist services and support.
Your GP or Health Visitor should be able to give more information about these services and how to access them.
Nursery Plus
What is Nursery Plus?
Nursery Plus is part of the SEND provision in Devon and promotes the inclusion of all children and helping everyone to reach their potential. It is an educational outreach service which supports Early Years settings which receive Early Years Education funding to meet the needs of children identified with SEND.
What does Nursery Plus do?
The Nursery Plus service offers extra support to children in Devon in the year before they start school.
It aims to:
Increase the number of children who start school achieving expected levels of development.
Support children who have significant barriers to learning to help them achieve their potential.
Enable settings to include children with social and emotional difficulties.
Ensure that children who have not already been identified as having SEND have appropriate interventions and referrals in place prior to starting school.
Useful links
Nursery Plus Criteria
Nursery Plus Referral Form
Nursery Plus Privacy Notice
Devon Early Years Complex Needs Service
What is it?
Devon Early Years Complex Needs Service is a year-round education service for children with the most severe and complex developmental needs. The service supports children to achieve success using a small-steps, play based, child centred approach. The service works in the home and in the community settings with parents and partner agencies to promote inclusive practice and to build confidence and resilience.
The service is registered with the National Portage Association (NPA) which is identified in the Special Educational Needs and Disability (SEND) Code of Practice as an early intervention service for children with significant and complex needs aged 0-5 and their families.
You can find more information on Pinpoint Devon.
You can also follow us on our Devon Early Years Complex Needs Facebook page.
What does the service do?
Works with families to help them develop a quality of life and experience, for themselves and their young children, in which they can learn together, play together, participate and be included in their community in their own right.
Plays a part in minimising the disabling barriers that confront young children and their families.
Supports the development of inclusive services for children.
How do we support families?
The service includes qualified teachers and experienced practitioners who support children and families on a range of pathways.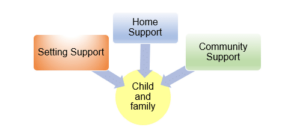 For more information see our EYCN Pathways information.
How do I know if my child is eligible?
To access the EYCN Service, children should meet one or more of the criteria below:
Show significant/profound delay in at least two or more areas of development, one of which must be cognition.
Present with significant and complex neuro-disability, for example Autism Spectrum Disorder, this must be significantly impacting on their cognition, their ability to learn and their ability to participate in daily activities.
Present as non-verbal or have significantly impaired communication
Have an existing diagnosis of a condition, where there is likely to be significant/profound delay to include cognition.
Children referred to the Under 5's Specialist Children's Assessment Centre (SCAC) may also be referred to EYCN Service via the SPOA route where appropriate. This can happen at point of acceptance to the SCAC and does not need to be an outcome of the specialist assessment process.
You will need to make a referral to access support from the Devon Early Years Complex Needs Service.
Referral information (Devon Children and Family Health Devon)
How can my child be referred to the Early Years Complex Needs Service?
All referrals to portage go through the Single Point of Access (SPOA) based in Exeter.
You can request services via the Single Point of Access:
You can also email them at TSDFT.DevonSPA@nhs.net or telephone them on 0330 0245 321.
Training
Devon Portage also delivers the following training:
Total Communication, in partnership with the Speech and Language Therapy Team, is for parents, practitioners and Early Years settings.
Including Children with Significant Additional Needs is training for practitioners in Early Years settings.
Physiotherapy
Vranch House provides Physiotherapy for children aged 0-5.
How can I access this support for my child?
If your child needs a service from Vranch House, anyone working with your child can make a referral.
If you are in East or West Devon, this will be sent straight to Vranch House; in North Devon the referral goes to the Physiotherapy team in Barnstaple Health Centre.
To access services based in Torbay Hospital John Parkes Unit (except for emergency and inpatient care), you can contact the hospital to make an appointment.
Augmented and Alternative Communication Aids (AACA)
What's available?
Vranch House provides Augmented and Alternative Communication Aids (AAC)
How do I get it?
If a child needs a service from Vranch House, anyone working with the child can make a referral.
Wheelchairs
What's available?
Vranch house has a Specialist Wheelchair Service.
How do I get it?
If a child needs a service from Vranch House, anyone working with the child can make a referral.