In autumn 2020 there were approximately 106,000 children attending Devon schools. A further 1,508 are known to be home educated (total of 107,508 children)
Devon has more children supported at both SEN support level and with an Education Health and Care Plan (EHCP) than seen elsewhere in the country.
In the October 2020 school census there were:
20,794 children and young people who had an identified special educational need in Devon
13,316 of which were supported at school level
7,478 children and young people who had an EHCP
The top three categories of need for this cohort of young people, making up two-thirds of the cohort, are:
social, emotional and mental health difficulties (SEMH)
autistic spectrum disorder (ASD)
speech, language and communication needs (SLCN)
This graph shows the trend in the different categories of need since 2017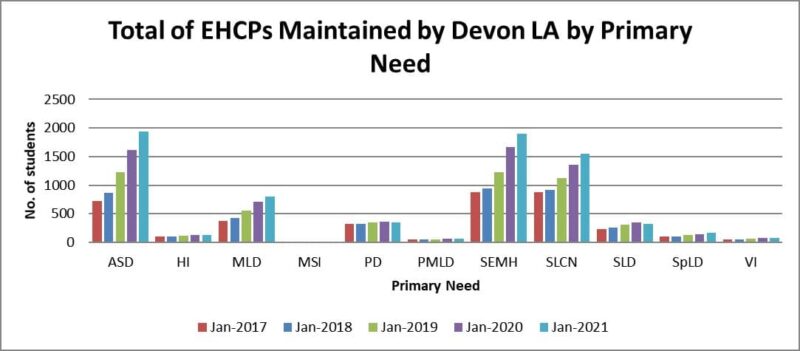 Key stage 4 results 2019/20
Children with EHCPs: 2018/2019 achievement data
There were no national tests for other year groups (key stage 2) in 2020 due to the pandemic so the previous year's information is shown.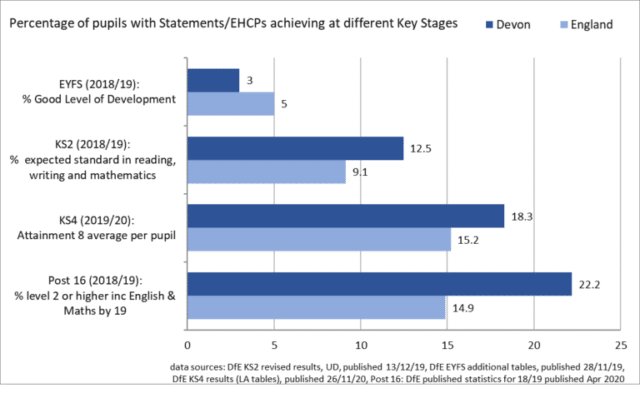 Funding
Funding to support children with special educational needs is allocated by the government to the high needs block based on the number of children aged 2 to 18 and levels of deprivation. It is not allocated based on the number of children identified as having special educational needs.
In 2020/21 Devon's allocation to the high needs block, from the Department for Education was £76 million. In order to meet the needs of children Devon actually spent nearly £105.3 million. This meant the gap between the funding Devon receives from central government and what it spent was just over £29 million.
For 2021/22 there is expected to be a funding gap within the block, but on a reduced level, based on the actions from the DSG management plan and the current projections of spend.