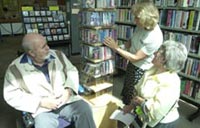 Many services that are run or commissioned by the Council focus on meeting the health and social care needs of disabled people, but disability equality goes beyond simply meeting these needs. The Equality Act 2010 encourages public authorities to advance equality for disabled people, including encouraging participation in public life. Disabled people make up around 15 to 20% of the population, but they are under-represented in employment and on boards/committees and experience many barriers accessing services.
The social model of disability emphasises the individual and places the focus on removing barriers that get in the way of everyone being able to participate in all mainstream activities. The medical model of disability focuses on the impairment rather than the social barriers and many disabled people view it as negative. We work closely with many disabled people and groups to create a better environment for disabled people to prosper and enjoy life.
Devon has had a strong track record of supporting inclusion for Deaf British Sign Language (BSL) users, through Sign Vision consultation events and the development of a Devon BSL Charter. In 2014 the British Deaf Association (BDA) launched a new BSL Charter. The new national BDA Charter replaces the Devon Charter. We will use the BDA Charter to benchmark our progress in meeting the needs of deaf people and encourage other organisations to do so. Devon is currently raising awareness of the problems of parking on pavements. Find out more about our campaign and how you can get involved.
Further information