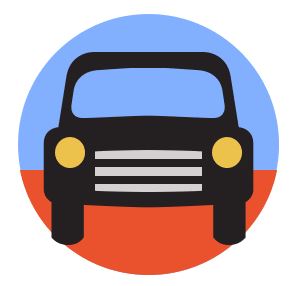 Safe travel One Stop Shop
Drivers
Drive with empathy and consider others when you are driving. You are responsible for a large metal object that can cause catastrophic, fatal harm to yourself and others.
There are five main causes of serious injuries and deaths on roads. More information about them here 'The Fatal Five'
Myth Busting / did you know?
Its ok to look at your mobile phone whilst waiting at traffic lights or queuing in traffic – Not true, it's illegal to use a handheld mobile when driving – including using your phone to follow a map, read a text or check social media, information here.
Cyclists don't pay Road Tax –  Not true, no one pays Road Tax, there is no such thing. Motorists pay vehicle tax based on emissions. Everybody pays for roads through other forms of taxation. Therefore all road users such as cyclists and horse riders have as much right to use the road as motorists.
Cyclists should ride near the kerb – Not true, Cyclist Road Positioning, expect to see cyclists sometimes riding in the centre of the lane, known as 'Primary' position or 'taking the lane' they are trained to ride this way when appropriate and too narrow for you to overtake them. 'Secondary' position is about a third of the way into the lane or an arms length away from the kerb and keeps cyclists away from debris and drains. Both positions make cyclists more visible.
Watch out for Pedestrians
Give way to pedestrians, especially on side roads. Remember, children can not judge distance and speed in the same way as adults. Children crossing the road adjacent to a parked vehicle is particularly dangerous as they are less visible to drivers than adults.
Windscreen mounted devices must not block your view of the road and traffic ahead. If you place a cradled device on the area on your windscreen that is covered by your wipers (also known as the 'swept area'), you are committing an offence
Do not park and obstruct dropped kerbs, this will make access and visibility difficult for pedestrians and is a civil offence.
Watch out for Cyclists
Give cyclists plenty of space as you overtake, at least 1.5 metres as per Highway Code 163.
Cyclists riding side by side is legal and can be appropriate.
The Dutch Reach, open your car door with the hand furthest away from the door and check behind before opening.
It is not compulsory for cyclists to use cycle lanes or shared paths. Cycling on the road often allows for a more continuous journey and avoids hazards presented by concealed driveways.
Watch out for Horses
The British Horse Society slow down for horses and pass them wide.
Idling Engines
Fumes released from idling engines contribute to air pollution and its estimated that 36,000 early deaths a year can be linked to air pollution. Toxic air disproportionately impacts children from the moment they are conceived. Do the right thing, give motorists a good name, turn off your engine if stationary for more than 10 seconds.
Living Streets and the British Lung Foundation have created a Anti-Idling Toolkit with info on how to run your own Anti-Idling campaign in your area.
Pavement Parking
Vehicles parked on the footway can cause an obstruction and inhibit the independence of many vulnerable people, especially older or disabled people with visual or mobility impairments.
And when pedestrians, for example families with pushchairs, are forced into the road and into oncoming traffic, pavement parking is simply dangerous. Pavements aren't designed to carry the weight of a vehicle: parking on pavements causes damage which add to our maintenance costs. Report pavement parking here
Living Streets has produced some posters encouraging considerate parking to put in your window or community centres, these can be downloaded here
Training and information
Learn2Live and the Honest Truth, road safety events and campaigns or young drivers.
Child Car Seat advice and information.
Driving safer for longer older drivers have fewer accidents per year than any other age group but they do have more accidents per mile driven.
Think! Understand what factors increase your risk of being involved in a collision – see the Governments Road Safety education and campaigns.
The Highway Code keep your knowledge up to date.
Driving for Better Business free Government backed programme helping employers reduce work-related road risk and improve operational efficiency
What3words for accurate to 3 metre mapping, ideal if you have broken down in rural locations. Download the app.
If you breakdown on the motorway or dual carriageway do not wait in your car, move away up the verge and wait there for assistance.
Collision and Causality Data
Information dashboard, search with interactive map, filter by mode and age here