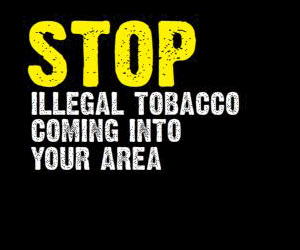 Stop Illegal Tobacco is a regional campaign that aims to raise awareness about the hidden costs of illegal tobacco.
Far from being a victimless crime, the illegal tobacco trade makes it easier for children to start smoking, takes advantage of cash-strapped families, and helps fund organised crime.
If you know of illegal tobacco trading going on in your community we need to know about it. You can report it anonymously by calling Crimestoppers on 0800 555 111 or through the website you can report online to Trading Standards.
PLEDGING YOUR SUPPORT AND SPREADING THE WORD ABOUT ILLEGAL TOBACCO WILL HELP KEEP IT OUT OF OUR COMMUNITIES, PROTECTING OUR CHILDREN AND OUR FAMILIES.