Guides
Thank you for showing an interest in Atkinson. Download a PDF guide here: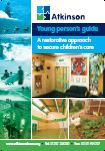 Young person's guide
Information
You may have lots of questions about the home. We have included several links to our guides for parents/carers and young people.  If after browsing them you feel that your question has not been answered please call us and we will be happy to answer any questions you have.
We send out regular electronic newsletters. If you would to be kept up to date please email us and we will add you to our list; you can unsubscribe at any time.
(If you have Government Connect Secure Email and have difficulty subscribing, please email us at  atkinson@devon.gov.uk  and we can subscribe you manually)