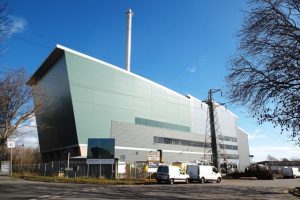 The Exeter Energy from Waste facility is located on the site of the former incinerator at Grace Road South in Marsh Barton. Devon County Council's waste disposal contractor, Viridor Waste Management Ltd, was granted planning permission for the development in 2007. Modern Energy from Waste processes are safe and clean, and regulated by the Environment Agency through an Environmental Permit, granted in 2010. Following a tender process, Tiru SA was selected to build and operate the facility.
Devon County Council is the top county for recycling in England, and reducing waste and composting is a priority for the authority. However, even after extensive recycling activity through the 'Don't let Devon go to waste' campaign, there will always be a proportion of waste left over that can't be recycled, reused or composted. This residual waste needs to be dealt with, and Devon County Council's policy is to use it to create energy, reducing the amount sent to landfill.
The Exeter energy from waste facility will enable the County Council to deal with household and some commercial waste from the Exeter and East Devon area. It is a small plant, built in partnership by TIRU SA with Viridor to treat 60,000 tonnes of residual waste each year.
Energy from waste is a mature technology with an established track-record, widely in use across Europe and Scandinavia. It is a clean and safe process that burns waste in a controlled environment to produce steam and electricity – enough to power 5,000 homes in the case of Exeter. Regulated by the Environment Agency, the emissions are constantly monitored to ensure they fall within strict limits.
Cyclerval UK, the company that will be running the facility, is part of Groupe TIRU, a French company that is a subsidiary of EDF. TIRU has extensive experience of developing energy from waste plants, with 20 facilities worldwide, including some which use oscillating kiln technology.
For more information, please visit www.tiru-uk.co.uk/exeter. To view the latest emissions data from the facility, please see www.tiru-uk.co.uk/exeter/environmental-reports.
For more detail about the project, including a time-lapse video of the construction, the latest progress updates, and frequently asked questions, please visit Tiru and Viridor's websites using the following links: