Business support
We are closely involved with a wide range of projects to provide support and guidance for all types of business in Devon.
Rural Growth Network
The Heart of the South West LEP, supported by our economy team, has secured £2.9m from DEFRA to develop a Rural Growth Network (RGN) across rural Devon and Somerset. This aims to create a sustainable rural economy through developing a network of rural enterprise hubs which act as a focal point for support to the micro and small business sector.

Rural Enterprise Grants – The RGN runs in conjunction with a £1m Rural Enterprise Grant Scheme (REG), delivered by our economy team. This offers capital grants to micro businesses in Devon and Somerset, to develop, expand and stimulate growth.
Rural Growth Network Business Support Service –  This aims to provide a one-stop portal to help rural business in Devon and Somerset start up and grow via a range of business advice and mentoring, workshops and events to develop business related skills and information about relevant funding opportunities.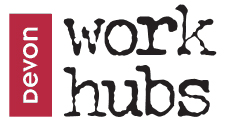 Devon Work Hubs
Devon work hubs is a growing community of friendly, low-cost and highly flexible workspace; perfect for home-based and mobile workers, business start-ups, freelancers and entrepreneurs. As well as workspace, several of the work hubs are also able to offer in-house business support.
Follow Devon Work Hubs on Twitter.
Making it Local

This was initially a five year £2.4 million, locally managed grants scheme in the Blackdown Hills Area of Outstanding Natural Beauty (AONB), East Devon AONB and surrounding area running to the end of 2013. Our team are the accountable body for this scheme, which aims to use the outstanding landscapes and local skills as a springboard for healthy and lasting development.
Making it Local now remains as a facility to bid for futher EU funding and to assist with the setting of local economic priorities.
Devon Tourism Partnership
We are the accountable body for Devon Tourism Partnership, which acts as the voice of tourism for Devon. This partnership includes representatives from all of Devon's Area Tourism Partnerships, and is responsible for protecting and promoting the 'Visit Devon' brand.
Find out more about the Devon Tourism Partnership and the Visit Devon brand at Visit Devon and you can also follow them on Twitter.