Infrastructure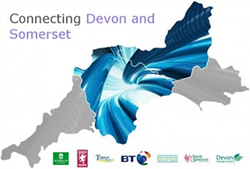 This programme will bring superfast broadband to rural areas that would otherwise not see commercial investment, aiming to achieve superfast coverage of 91% of premises by 2016 and 100% by 2020. This includes the local authority areas of Devon, Torbay, Plymouth, Somerset, North Somerset and Bath & North East Somerset and is funded by Central Government (£32m) and Devon and Somerset Councils (£21m), as well as a £42m investment from partner supplier, BT. You can follow Connecting Devon and Somerset on Twitter.
Exeter and East Devon Growth Point
We are working in partnership with Exeter City Council, East Devon Council and central government, to deliver a development programme worth over £2 billion. This includes the first new town in Devon since the medieval times, next generation business parks, a community energy centre and an intermodal freight terminal.
Sustainable Energy Across the Common Space (SEACS)
We are one of five partners from the UK and France in this project to empower and inspire communities to actively reduce their energy consumption.
Transport lobbying and resilience
We work closely with our colleagues in transport planning to ensure that; where possible, Devon's growth is not hindered by transport constraints. This includes lobbying central government and rail providers as well as providing economic evidence to support proposals.