What is park and cycle?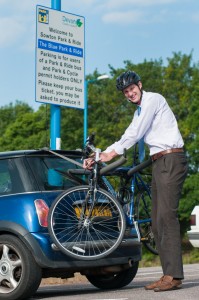 Park and Cycle works in the same way as Park and Ride but with bicycles, and it's completely free! Simply park your car in the Park and Cycle area, take out your bike and cycle the rest of the way to work. You need a valid permit to avoid incurring a penalty charge.
There are now Park and Cycle spaces at all Exeter Park and Ride sites. A limited number of lockers for secure bicycle storage are also available at Matford and Sowton Park and Ride sites.
If you would like a locker, state this on your application and we will put your name on the waiting list and let you know when one becomes available.
How do I apply for a permit?
Complete the application form below and you will be contacted by a member of our team. We can only supply permits for people whose onward journey is outside the exclusion zone for each site. Check the maps before you apply:
For specific enquiries, email us (enter 'Park and Cycle permits' in the subject field) or call 0345 155 1004.
Apply for a park and cycle permit