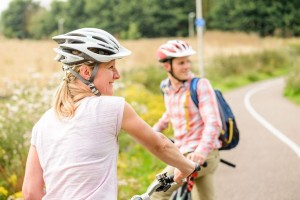 Cycling is a fun, free and fast way to travel from A to B. With miles of traffic-free trails across our beautiful county, you're bound to find a suitable route near you.
We're here to help you get started with advice on:
If you can't find what you're looking for, send us an email or get in touch on Twitter or Facebook.
Why cycle?
It's healthy – cycling improves fitness, helps maintain a healthy weight, lowers the risk of heart disease and helps to reduce stress
It's cheap – bikes are low on cost; they don't need taxing, MOT, compulsary insurance, breakdown cover or fuel!
It's faster – in busy city and town centres, cycling is often quicker than any other mode of transport
It helps the environment – with no air or noise pollution, cycling is environmentally friendly