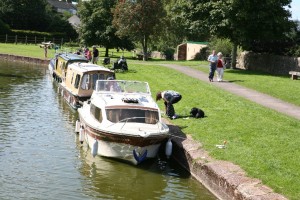 Boating is recognised as an important leisure activity in the Country Park, and since early 2003, has been positively promoted as an attraction. Until recently very little motorised boating has occurred on the canal but in recent years improved facilities such as a boat hire, moorings, slipway, pump out and water supply points, plus an extensive dredging programme, has meant that it is an increasingly attractive proposition for many boaters seeking a peaceful, lock-free waterway.
However, Devon County Council is committed to maintaining the superb natural environment and wildlife habitats found along the canal. We seek to ensure that increased boating activity does not harm the natural value of the canal. Therefore in addition to speed limits and engine size restrictions set out in the terms and conditions when boaters purchase their boat permit, we actively encourages environmentally-friendly boating and is keen to promote initiatives such as The Green Blue, backed by the British Marine Federation and the Royal Yachting Association. The Green Blue is an exciting new environmental awareness initiative that is testing out practical projects, conducting research and providing advice, to help recreational boating go green.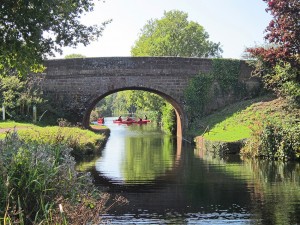 For more information on good boating practice please refer to The Boaters Handbook  which has been developed by British Waterways and the Environment Agency. This provides clear information on how to handle a boat safely and effectively. Please also refer to the Navigational Notes below and the Rules and Regulations given on the back of the boat permit, which are specific to the Grand Western Canal.
A permit must be bought in advance if you wish to explore the canal using your own boat. For prices and outlets that sell the permits please see below. (Please note: British Canoe Union membership does not apply on this waterway, so you will also need to buy a permit)