The Canal supports a rich and vibrant variety of wildlife and provides a great opportunity to get close to nature. In recognition of this, the Canal was declared a Local Nature Reserve in 2005.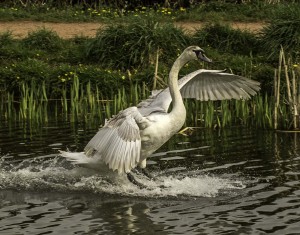 The Grand Western Canal is an attractive stretch of isolated canal, winding its way through the soft rural landscape of Mid Devon, enticing an abundance of local wildlife. Although the canal is wholly man-made, its plant and animal communities are mostly natural, having colonised the site as it has matured and suitable habitats have developed.
The wildlife of the canal is vulnerable to pollution and sedimentation. In response to this we have entered into the Countryside Stewardship Scheme which will provide funding for work that will include creating buffer strips along the offside banks, resuming coppicing in the canal cuttings and restoring the hedgerows that flank the towpath. The Grand Western Canal has also become a partner in the Interreg IIIb Crosscut project, which is an EU-funded project looking into sustainable canal management. It involves work on sustainable dredging practices and working with farmers to reduce future siltation.
Wildlife recording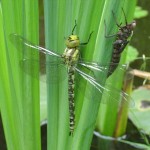 The Rangers – with the help of a few dedicated volunteers – participate in survey work and the collation of casual records throughout the year. We have good records for the birds, butterflies and dragonflies, and much work has been done on surveying aquatic and bankside plants. The Ranger Service would be interested to know about any sightings of rare or notable wildlife along the Canal. Please contact us with your findings on 01884 254072 or at gwcanal@devon.gov.uk. Find out more about the bird, butterfly and dragonfly (coming soon) sightings from 2015.
For more information on wildlife found in Mid Devon please contact Mid Devon Natural History Society.