Originally part of an ambitious scheme to link the Bristol Channel with the English Channel, the Grand Western Canal was proposed as a way for shipping to avoid the long and perilous journey around the Cornish peninsular, and as a route for transporting goods, including coal from South Wales, into the heart of Somerset and Devon.
View the original proposed route for the Grand Western Canal.
The section from Tiverton to the limestone quarries at Westleigh (also known locally as the Tiverton Canal) was completed in 1814, but the costs had escalated hugely (proving this is not just a modern-day phenomenon!) due to the use of steep embankments and deep cuttings to keep the canal on a level contour.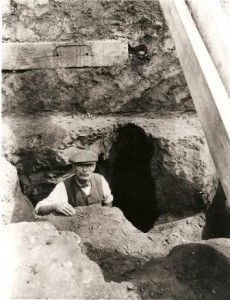 This massive overspend delayed construction of the next section to Taunton for many years, but eventually it was completed in 1838. By then any plans to link the canal with the English Channel had been abandoned, but for a short time the canal was profitable, mostly carrying coal and limestone, much of which was burnt in limekilns and used for improving agricultural land.
The advent of the Bristol & Exeter Railway, took much of the trade from the canal, and in 1865 the section from Lowdwells to Taunton was sold to the railway company and abandoned. However the limestone trade continued on the 'Devon section' until the 1920s when a major leak led to the damming off of a section near Halberton.
Apart from a small lily-cutting business, the canal slowly choked up with reeds and was largely unused until the 1960s, when proposals to use the canal as a linear landfill site and possible route for a road galvanised local support for preserving the Canal.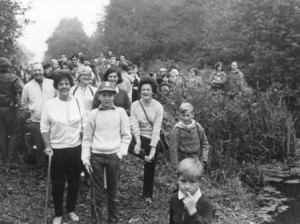 The campaign to save the canal proved to be successful as in 1971 Devon County Council bought the canal and declared it a Country Park. Since then a substantial investment in dredging and relining the canal has been made and the canal is now a popular visitor attraction and thriving local amenity.
Many original structures dating back to the canal's heyday are still to be found in the Country Park. Many are protected by Grade II listing, including the Tiverton Basin and Waytown limekiln complexes,15 road bridges over the canal (designed by John Rennie) and the 40m long Waytown Tunnel. Other notable structures include milestones, culverts, wharves, accommodation bridges and a lock.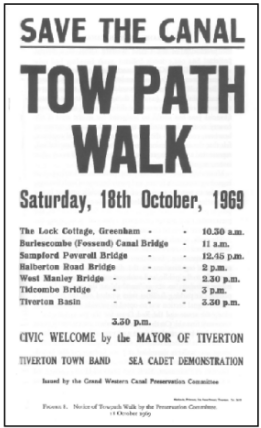 In recent years, The Grand Western Canal Trust, the Waterway Recovery Group and the Country Park Ranger Service have worked together to restore many of these structures.
A Subtle Navigation This article has been reproduced with kind permission of Clare Blake and 'Devon Life' magazine.
If you are interested in helping to restore and preserve the Canal's historic structures, please telephone the Grand Western Canal Trust's Secretary, Hugh Dalzell, on 01884 849255.