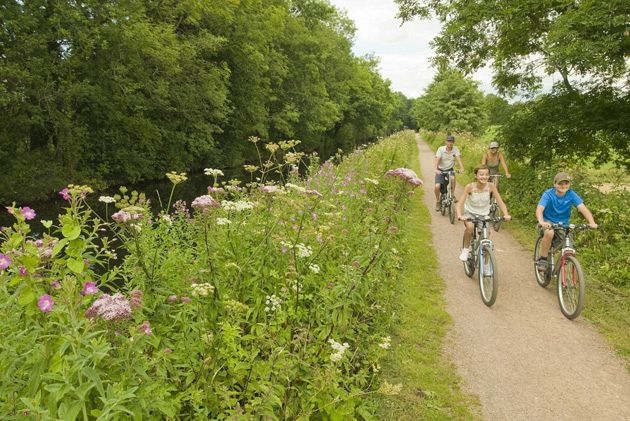 Cycling is becoming a popular way for families and individuals to explore the Country Park. Cyclists can take in much of the changing scenery along the Canal in a relatively short period of time. The towpath is generally flat and smooth, but cyclists are advised to dismount at Waytown Tunnel where the slope is quite steep. Cyclists must dismount and walk under bridges and give way to pedestrians and the horses drawing the passenger barge at all times.
Please ensure that pedestrians are aware of your approach by using a bell or by calling ahead, before you pass. Please be patient with anglers using extendable fishing poles.
The Country Park is primarily for quiet and relaxing recreation for all users, so please cycle steadily and responsibly. To encourage safer and more considerate use of the towpath by cyclists, walkers and anglers the Grand Western Canal Country Park Ranger Service has launched a Towpath Code of Conduct. The code explains the behaviour expected of all towpath users and reminds people that horse riding and motorcycle use are not permitted on the towpath.
Circular cycle routes
Circular routes are possible using the surrounding minor road network and the disused railway line between Tiverton and Manley Lane. For more information about cycle routes in the area please contact:
Tiverton Tourist Information Centre
Tel: 01884 255827
Email: tivertontic@btconnect.com
The National Cycle Network Route 3 follows much of the Canal. For more information on this please contact:
Sustrans
Tel: 0845 113 00 65
Email: info@sustrans.org.uk
Cycle hire
Abbotshood Cycle Hire
Abbotshood Farm
Greenway (next to Greenway Bridge on the canal)
Halberton
Devon EX16 7AE
Tel: 01884 820728
Email: abbotshood@halberton.org
Cycle delivery and collecting service available anywhere within the Canal corridor, by prior arrangement.