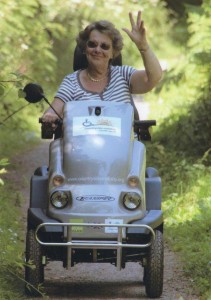 The Country Park provides good access for wheelchair and mobility buggy users as the towpath is largely flat and even and is surfaced with compacted limestone chippings and dust. However, care is needed when passing under bridges, where the path is narrow (especially at Ayshford Bridge). There are steep concreted slopes immediately on either side of Waytown Tunnel that may cause difficulties for some visitors, mobility buggies and wheelchair users.
Facilities for disabled visitors
Abbotshood Cycle Hire beside the Canal in Halberton have a number of innovative trikes and bikes for disabled users.
The Canal Basin and car park provide good disabled facilities with ramps and handrails provided. The car park has five parking bays for disabled drivers. The public toilets in this car park included a toilet for disabled users.
There is also a toilet for disabled users, opened with a RADAR key, in Sampford Peverell beside the village car park.
Entry to the Country Park at all the main access points (particularly beside road bridges) has been improved in recent years through the installation of two-way, self-closing gates.
Four fishing platforms for anglers in wheelchairs have been installed at points along the canal. These are found near Crownhill Bridge, Tiverton Road Bridge,Greenway Bridge and Ebear Bridge.
For further information or assistance, please contact the Ranger Service on 01884 254072.