County Lines – Know the signs
---
Devon and Cornwall Police have today, Tuesday 3 July, launched a campaign to raise awareness of County Lines and how the public can help spot the signs of such criminal activity ongoing in their community. Please take a moment to read the full press article.
County Lines is a term used to describe urban gangs supplying drugs to other parts of the UK using dedicated mobile phone lines. The gangs are likely to exploit children or vulnerable adults to move and store drugs and they will often use coercion.
This is a national trend and there are criminal gangs using the County Lines operating model across Devon and Cornwall.
Signs to look out for:
A young person's involvement in county lines often leaves signs, below are some of the indicators of county lines involvement and exploitation:
A child or young person going missing from school or home or significant changes in emotional well-being
A person meeting unfamiliar adults or a change to their behaviour
The use of drugs and alcohol
Acquiring money or expensive gifts they can't account for
Lone children from outside of the area
Individuals with multiple mobile phones or tablets or 'SIM cards'
Young people with more money, expensive clothing, or accessories than they can account for
Unknown or suspicious looking characters coming and going from a neighbour's house
Relationships with controlling or older individuals or associated with gangs
Suspicion of self-harm, physical assault or unexplained injuries
Gangs may also target women who tend to be drug users or have engaged in a relationship with a gang member. They can become victims of sexual and domestic violence and can also be coerced into delivery drugs or money for the gang.
Vulnerable adults who are in financial difficulties or who have mental health problems are usually the most likely victim of cuckooing.
What can you do?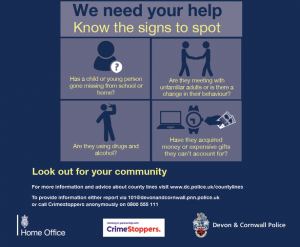 If you have concerns surrounding children, follow safeguarding procedures and share your concerns with MASH.
If you are being affected by any of the above or know someone who is then contact police via 101@dc.police.uk or by calling 101. Alternatively you can call Crimestoppers anonymously on 0800 555 111.
Further information on County Lines can be found on the website: www.dc.police.uk/countylines